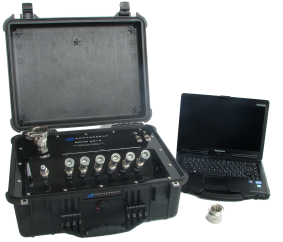 COHO Gas Flow and Vacuum Leak Detection System
COHO is the leak detection solution trusted by large OEMs to control their vacuum bagging process. The result of Convergent's decades of industry experience, COHO monitors gas flow and bag pressure in real time, instantly identities leaks, and guides teams to problem locations. Automated reports and historical data provide unprecedented transparency into your process. Contact Convergent to see how COHO can revolutionize your bagging workflow. 
"COHO helped us to improve our process.  Our vacuum bag failure rate was 9% and is now 0.8% and still going down!"                                                                                              - Diego Oliveira, SAFRAN AEROSPACE COMPOSITES
Vacuum leaks and bag integrity are generally determined by using pressure drop tests, which are time consuming and part size dependent. COHO is the vacuum leak detector that integrates into your vacuum bagging process, measuring gas flow directly at the vacuum ports, identifying bag leaks instantly and determining their location in real time by analyzing the gas flow signals.
Applications:
Real time gas flow and leak detection for composites manufacturing.
Vacuum bag leak detection and localization.
Vacuum system (hoses & fittings) leak detection.
Monitoring composite evacuation and off-gassing with moisture detection.
Designed for both production and process development.
Benefits:
Simple setup and operation.
Faster & better vacuum bagging.
Identify leaks instantly, with real time flow monitoring for continuous feedback.
Integrated and automatic vacuum decay tests.
Automated reports provided for every run and test
Locate and fix leaks easily and quickly using leak localization modules.
Flow based leak rate measurements are part size independent, as opposed to traditional pressure rise tests which are not.
Monitor part evacuation and off-gassing.
Review, compare, and data mine historical measurements.
Features:
Multi-channel high sensitivity flow sensing with by-passing that ensures low vacuum loss.
Workflow oriented user interface.
Vacuum pressure measurement.
Integrated vacuum regulation.
Moisture detection.
Real time data viewing with digital commenting.
Leak localization algorithms that predict the most likely leak locations.
United States Patent No.: 9,862,144
The COHO gas flow and vacuum leak detection system consists of high-performance gas flow sensors that connect to the standard vacuum lines used in composites processing.
An on-board computer processes the sensor data for real-time displays.
The system provides the operator with gas flow measurement data and trends through console computers, large screen displays, and/or roamer tablets.
Evacuation, off-gassing, and leaks can been identified, measured, and recorded.
The COHO user interface is workflow oriented with assemblies that represent actual factory conditions, and built-in leak localization algorithms predict leak locations.
Convergent provides turnkey, user friendly vacuum leak detection solutions.
This feature table shows the capabilities of our hardware series, COHO 600 and COHO 800.
User
COHO 600 Series
COHO 800 Series
 
601-02
601-03
802-01
Engineering/ R&D
 
Production
 
Features  
Automated Part/Test Reporting
Integrated Pressure Drop Tests
Portable, Rugged Suitcase
 
Industrial Cart
 
 
Instrumented Vacuum Lines 
 6
6
12, 18, 24+
Instrumented Vacuum Control Valves
 0
0
4
Integrated Vacuum Regulation
 
 
Rugged Frontend Laptop
 
Optional
Full-size Operator Console
 
 

Standard Software Package
Generalized interface that provides flexible configuration of workflows and assemblies for each activity.

Factory Software Module
Targeted interface intended for factory environment, constraining use to pre-defined workflows, presenting data in an easy-to-understand manner. Customizable to your manufacturing processes.

 

Maximum Unique Secondary Displays Clients
Each unique display client shows real-time visualizations of the COHO activity. 

0
1
4

Add-on Sensors Supported
These can include inclinometers, etc. Please contact Convergent to inquire about compatibility.

 
 
User Serviceable Filters
 
 
Inlet size / type
1/4" NPT
1/4" NPT
3/8" NPT
High Flow Outlet size / type
1" NPT 
1" NPT 
2" NPT 
Low Flow Outlet size / type
1/4" NPT
1/4" NPT
 
User-Replaceable Smart Manifolds 
 
 
Premium Features

Daisy Chain Functionality
Connect the modular and portable COHO systems together to increase the number of vacuum lines when needed.

Optional

Flow Standard Tool
Self-check the calibration of the flow sensors to verify performance of the COHO system.

Optional

WiFi Module
Required for use of wireless display clients. 

Optional

Mobile Display Client (Tablet)
The mobile display client gives operators the freedom to move around with the COHO data in the palm of their hands. The WiFi module is required.

Optional

Team Display Client (Large Screen)
The team display client is indispensable in workflows with team members working on a large part. It allows everyone to see the COHO data at a glance. The WiFi module is required.

Optional
 
Spare Smart Manifolds
 
 
Optional
Commissioning and Training
On-site commissioning
Optional
1-day on-site training
Optional
United States Patent No.: 9,862,144