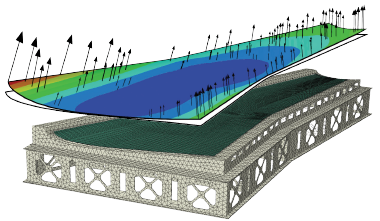 COMPRO Simulation Software
Built on the Convergent Common Component Architecture (CCA) platform.
Uses the same material data bases as the RAVEN Simulation Software.
Enables advanced composites process simulation within general purpose finite element environments such as ABAQUS and ANSYS.
Powerful tool for spring-in calculations and tool compensation.
Handles complex hybrid structures and multi-stage processes.
FREE TRIAL
With COMPRO you can perform very detailed process analysis of complex structures, which allows you to:
Calculate process induced deformations (spring-in) and develop recommendations for geometric tool compensation.
Calculate residual stresses in composite laminates and configured structures.
Develop cure cycles and tooling that meets cure cycle specifications.
Simulate the behaviour of hybrid structures with cores, pre-cured skins, adhesive layers and inserts.
Simulate the behaviour of hybrid, multi-step processes: co-cure, co-bond and secondary bonding.
To use COMPRO you need a license and working knowledge of a supported general purpose finite element software such as ABAQUS or ANSYS. The general workflow to set up and run a COMPRO model is:
Define geometry or import geometry from CAD program to preprocessor of choice,
Generate finite element mesh of part, tool and caul-sheets/inserts,
Set-up FE model with boundary and initial conditions and link to COMRPO,
Run model,
Evaluate results,
Redesign or optimize your process accordingly.
COMPRO is currently available in the ABAQUS and ANSYS software packages. The following table shows analysis features and capabilities available for each version of COMPRO.
 

Versions:

 

 

COMPRO

for ABAQUS

 

 

COMPRO

for ANSYS

 

Year of first implementation

2004
2014

Graphical User Interface

1

In Development

Thermo-chemical analysis

Flow-Compaction analysis

Stress-Deformation analysis

Fully Coupled Flow-Stress

In Development

Multiple Processors

(SMP and MPP)


(SMP)

Layered Composite Elements

Stress-deformation analysis only

Thermo-chemical and

Stress-deformation analyses

Integration with Design Workflow

CATIA, CL, CMA, RSO
ANSYS Workbench, ACP and FiberSIM
Notes:
COMPRO Plug-in for ABAQUS CAE
COMPRO requires good computational resources for a satisfying user experience.
A mid to high end CPU (or CPUs) that is less than five years old is recommended as well as a minimum of 4 GB of RAM memory.
The results of the simulations can be quite large, and approximately 100 GB of free hard drive space is recommended before starting new simulations.
COMPRO runs on x86 compatible hardware architectures that uses Microsoft Windows (7, 8, or 10) or various flavours of Linux operating systems.
In addition to these requirements, a valid ABAQUS/Standard v6.14-4 to v2020 or ANSYS R.16- 2020 R.1 license is required. All COMPRO features are available in the most recent version of either solver. However, some features may not be available in older solvers due to solver limitations. Please contact Convergent with specific questions about features available in a version of interest.