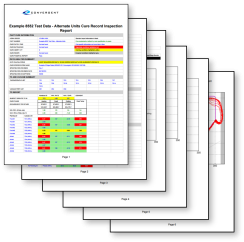 CIRT - Composite Inspection Reporting Tool
Inspect Process data from manufacturing process such as:
Autoclave
Out-of-Autoclave
Repair
Press Processing
Other Composite processes
CIRT streamlines inspection for cure cycle specification compliance, simplifies detection of erratic signals, generates reports automatically and is compaitible with Convergent's suite of composite process modelling software solutions. 
Load, partition, sort and flag process data
Evaluate process compliance with specifications
Visualize heating rate data with specification requirements overlaid
Interrogate data with analysis tools such as: pan, zoom, probe, etc.
Flag and note errant signals
View and report compliance for complete loads and individual parts
Generate compliance reports with one-click report generation
Maintain traceability and process security with features including: locked configuration files, fingerprint change-detection, and licenses tied to equipment and users
Create custom process specifications
Create custom outcome reports
CIRT (Composite Inspection Reporting Tool) is used to inspect process data files, assess the data against predefined specifications and generate reports detailing how well the part(s) met requirements.
Applications include:
Autoclaves
Ovens
Repair
Presses
Other composite processes